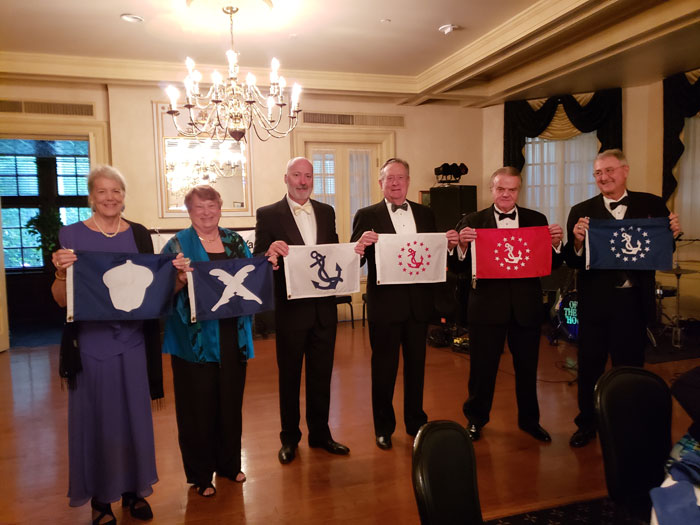 The Back Creek Yacht Club's (BCYC) Change of Watch Ball was held May 19 at the U.S. Naval Academy's Officer's Club to celebrate its new officers
BCYC's annual Memorial Day Weekend raftup was a success despite some bad weather. The raftup was held this year at the Higginbotham's house on Whitehall Creek. The weekend included a silent auction, and a captain's briefing by Chuck Kahle for the Spring Cruise, which was held June 2 to 10. First stop was Haven Harbour Marina at Rockhall Creek, MD. Rough weekend weather produced heavy rain and winds that discouraged leaving the for Havre de Grace as planned on June 3, although intrepid souls clad in foul weather gear had cooked the planned barbecue chicken for the next stop (which was greatly appreciated). The fleet moved on for several days to Georgetown, MD, and then to the Baltimore Yacht Club on Middle River. For the last stop, rather than anchoring out, before strong weekend weather hit, cruisers returned to the Higginbotham's house on Whitehall Creek, for a rousing ending. Nothing like shared adversity to bring boaters together!
The club's annual Lobster Feast, featuring large lobsters and prime roast beef and trimmings, was held June 23 on Crab Creek, hosted by John and Madi Yates. The usual Flip, Flop, and Drop Breakfast followed the next morning, hosted by Ben and Candy Wilson.
July is full with planned activities, beginning with July fourth fireworks to be enjoyed on Almhouse Creek. An Irish Music concert is planned for July 12. Either a raft up or a visit to the Air Mobility Museum is planned for July 20. Check out backcreekyc.org for details on these and other forthcoming events. Here you may also learn about the club's waiver this year of its initiation fee to encourage more new members to join with us.
by Otto Hetzel