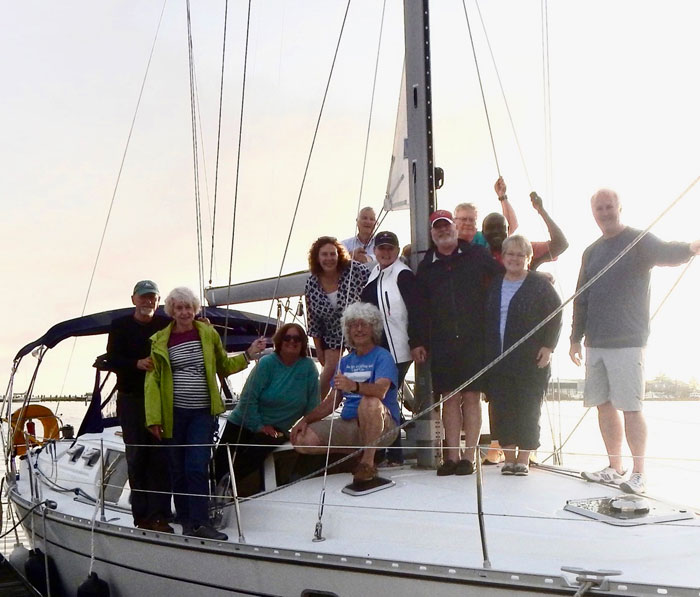 The weather had been very rainy with nasty forecasts all week long. But that didn't stop some members of the Jeanneau Sailboat Owners (JSO) club from crossing the Bay in light winds and rain into Rock Hall Landing for a weekend of fun on May 19. This month's meeting was sponsored by The Office, with a wine-guessing contest.
The evening started with catching up after the long winter's gap from sailing. It is always nice to meet up with boating friends and share stories and talk about boats. Three boats traveled from Parkside Marina, Herrington Harbor North, and Shipwright. Three other groups traveled by car and met on The Office for the evening's festivities. After a rainy start to the day, the weather cleared and the temperature was pleasant for sitting around the cockpit.
Each couple or person brought a bottle of their favorite wine and handed them over to the host, Mick Meckler, who wrapped the bottles to hide the label and identified them with a letter. While sharing appetizers contributed by the guests, each bottle was tasted by all 12 guests until all nine bottles were passed around, some more than once. Mick also provided his guests with a primer on wine tasting. Finally, the unveiling of the answers revealed Dennis Stromberg as the winner of first prize, having guessed six of the nine bottles. He took home the coveted prize of a Jeanneau backpack (generously provided by Jeanneau America). Second place finishers took home Jeanneau hats and logbooks.
At the conclusion of the planned event, a number of the members visited Waterman's Crab House for drinks and a late dinner where we had the opportunity to meet Chef Charles Brown.
Sunday was a wonderfully sunny day. After a hearty breakfast in downtown Rock Hall, MD, everyone shoved off for a pleasant sail back to their home marinas.
JSO was established in 2011 by a group of Jeanneau sailboat owners and sailing enthusiasts. The goal of the organization is to enhance our love of sailing by sharing experiences together. The organization is comprised of an association of locally established chapters that each determine their own schedule of activites and events. jsogroup.clubexpress.com
By Mick Meckler